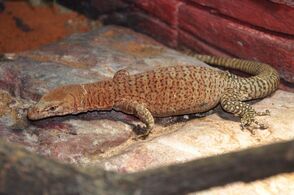 Pilbara Monitor
Physical description
Binomial name
Varanus bushi
Conservational Status
Status
LC
IUCN status
IUCN 3.1
Scientific classification
Kingdom
Animalia
Phylum
Chordata
Class
Reptilia
Order
Squamata
Suborder
Lacertilia
Family
Varanidae
Subfamily
Natricinae
Genus
Varanus
Species
V. bushi
The Pilbara Monitor (Varanus bushi), also known as Bush's Monitor, is a newly discovered species of monitor lizard. The species is named after naturalist and herpetologist, Brian Bush. This species belongs to the subgenus, Odatria. Pilbara monitors live in the Pilbara region of Western Australia. The Pilbara Monitor is most similar to the Stripe-tailed Goanna and the Pygmy Mulga Goanna of all monitor lizards. However, the Pilbara monitor can be distinguished from these other two species as it has some morphological and genetic differences. [1] Details about the behavior of this monitor are relatively unknown.
References
Edit
Community content is available under
CC-BY-SA
unless otherwise noted.