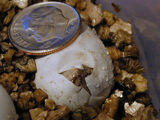 This page is a work in progress.

The author will finish this article later. In the meantime, try not to add anything significant, as he/she may have something in mind. However, for the time being you can make small changes to the page and try and make it better.
Common House Gecko
Physical description
Habitat
Tropical
Lifespan
5 - 10 years
Average Size
3 - 6 inches (7.5 – 15 centimeters)
Diet
Insectivorous
Conservational Status
Status
Least Concern
Scientific classification
Kingdom
Animalia
Phylum
Chordata
Class
Reptilia
Order
Squamata
Suborder
Sauria
Family
Gekkonidae
Genus
Hemidactylus
Common House Geckos are a genus of lizards that often thrive in urban areas. The lizard tends to live in tropical environments, but can be found all around the world due to its ability to adapt to many environments.
Community content is available under
CC-BY-SA
unless otherwise noted.